First and foremost, no need to panic! Although Facebook is introducing limits to the number of ads you can run, the limit is fairly generous. Furthermore, you can easily reduce the number of active ads while ensuring great results with several already available ad products.
In this blog post, you'll learn how this will affect you, how to prepare for the upcoming changes, and what solutions to use going forward.
Smartly.io customers can take things a step further with localization and personalization at scale – even in a world with ad limits.
What Are The Ad Limits All About?
Back in October 2019, Facebook revealed its plans to introduce ad volume guidance on how many active ads brands can run per Facebook page. They have now announced the limits that they'll roll out gradually between February and the summer of 2021.
Keep in mind that the limit tells you how many active ads you can run per Facebook page (not ad account) at once. The limit is based on the highest monthly spend (per page) you've had in the last 12 months.
The limits are as follows: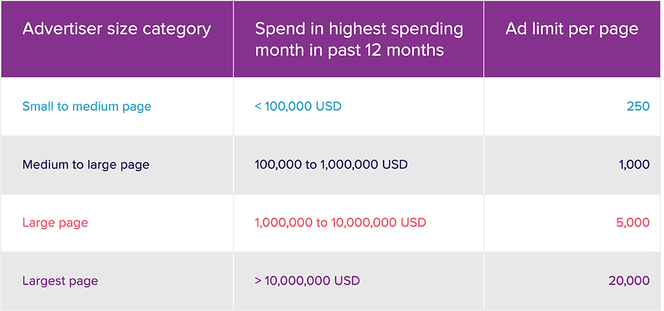 Although it's relatively difficult to exceed these limits, it's possible if you use granular strategies or have focused your ads on one or a few pages.
Why These Ad Limits?
Facebook optimization algorithms have always worked best when each campaign, ad set, and ad has as many conversions as possible. To achieve this, you typically need a higher amount of delivery per ad.
If you run too many ads at once, each ad will deliver less frequently, hence it takes longer to exit the learning phase and reach better performance. After studying this in detail, Facebook has discovered that it is a widespread problem - these new limits will ensure that advertisers are using the most effective campaign setup.
What should I do?
Start with the following simple steps to address this change:
1. Estimate your current situation
First, check your current status. You can quickly check what the limits are for each page you have access to and how many ads you are currently running from Facebook's ad limits tool: https://www.facebook.com/ads/ad_limits/ (requires logging in to Facebook).
If you are nowhere near the limit, you can rest assured: there is nothing you need to do immediately. However, we recommend keeping an eye on your total number of ads, so you don't accidentally hit the cap and run into delivery issues later.
If you have exceeded the limit or are close to it, now is a good time to start planning your simplification.
2. Plan your simplification
Take a look at the different campaign types and objectives that you are running and consolidate campaigns with the same end goal, such as product sales or website traffic.
The following solutions are a great way to start:
Use Dynamic Ads and Cross-Border Dynamic Ads for direct response
If you aren't using Facebook's Dynamic Ads yet, you now have an excellent opportunity to get started! It is the best-in-class direct response solution for social advertisers. As you upload your product catalog, the Dynamic Ads solution will show the most relevant product for each person seeing your ads.
If you are already running Dynamic Ads, but have separate campaigns for different countries or languages, you can consolidate further by creating Cross-Border Dynamic Ad Campaigns. These campaigns allow you to customize a single ad even further by showing e.g., localized copy and pricing based on the viewer's country and/or language. This way, you only need to run a single campaign for English and Spanish speakers, for example; the ad will dynamically show information in Spanish to Spanish speakers and English to English speakers.
Smartly.io customers can customize beyond the ad copy. With our proprietary Image Templates tool, you can customize the ad's creative elements based on the language or country to make it even more relevant and compelling.
Use Asset Customization to serve to optimal content for each placement and location
Outside of Dynamic Ads, when your goal is to generate for example web traffic or store visits, you can leverage Asset Customization to improve ad relevance and show different variants of a single ad based on parameters such as user language, ad placement (newsfeed or stories), or the user's location (zip code, country, city, etc.). This easily allows you to consolidate campaigns for multiple markets while still ensuring your ads remain localized and engaging.
You can find more in-depth information about these solutions in our previous blog article.
3. Migrate ahead of time and monitor the results
Once you've built your campaigns, remember to set a schedule when you'll start running them and pause the old ones. As your campaign structure changes, remember to closely monitor the performance and get comfortable with making optimizations in the new structure. Optimization solutions such as Smartly.io's Bid Multipliers help you further prioritize delivery to the most valuable audience segments.
You are now done with the changes!
Can I still use granular localization and personalization strategies?
Yes, you can! Localization is a core strategy e.g., for retailers as they typically get better results when they can show local offers in their ads.
We at Smartly.io can help you take your social strategies a step further: our ad localization and personalization solutions, such as Placement Asset Customization, allow you to address local audiences with the content most relevant to them. We can help you leverage your existing product and location data and automate campaign management and creative production further so you can customize ads at scale, even for hundreds of locations.
Summary
To conclude, there is no need to worry about this change. Just remember the following steps when preparing for it:
Use reporting to estimate where you currently stand and how likely the ad limits are to affect you
Create a simplification plan and build new campaigns using the recommended solutions, such as Cross-Border Dynamic Ads and Segment or Placement Asset Customization.
Set a schedule for migrating and remember to monitor results
I hope you've found these tips useful! If you are interested in implementing our solutions or seeing how we can help you tackle the upcoming ad limits, don't hesitate to get in touch. Our team is happy to help you preparing for the change!
Author
Petteri Jalonen
Product Marketing Manager at Smartly.io